Rule of Law is the foundation of both government and society, It must be upheld with high moral standards that treats every person equal.  Any law that  has two sets of rules that exempts one person or group  over another is described as tyranny.
Please watch the video from the below linked article.
TAKING OUR COUNTRY BACK & HOLDING THE CRIMINALS ACCOUNTABLE!!
THE NEXT QUESTION, BY PUBLIUS VALERIUS
The United States are in the midst of an ongoing political dispute of historical proportion, and there is a maelstrom of verbiage on line and in the mass media about it. Robert Heinlein, a retired naval officer and noted author, is famous for many things, but the pertinent quote I have in mind is "What are the facts? Again and again and again – what are the facts? Shun wishful thinking, ignore divine revelation, forget what "the stars foretell," avoid opinion, care not what the neighbors think, never mind the unguessable "verdict of history" – what are the facts, and to how many decimal places? You pilot always into an unknown future; facts are your single clue. Get the facts!"
So, what are the facts?
The facts are that a very large number of persons, many affiliated with the Democratic Party, and some unknown, have engaged in election fraud. From registering illegal aliens, to manufactured ballots, to discarding and failing to count Republican absentee ballots, to blocking Republican poll watchers, to tampering with electronic voting machines apparently with the aid of foreign actors, to wholesale ballot stuffing on an unprecedented scale, among other acts. These are the FACTS. Not speculation, but fact. It is also a fact that the mass media refuse to report these facts, and that Twitter and Google and Youtube among many others are not only refusing to report these facts, but actively blocking individuals who attempt to speak out about these crimes.
These are some of the facts relating to the recent election. The scope and scale of these fraudulent and felonious acts strongly suggest an ongoing organized conspiracy to subvert the lawful electoral process and deny the apparent rightful winner of the 2020 US Presidential election his office.
There are other facts pertaining to this situation. The fact is that there are multiple cases of those on the Left making public statements that those who support the current President in his attempt to resist what can only be characterized as a coup against him are to be persecuted, prosecuted, and even hunted down and killed. Again, these are facts.
---
The Dominoes Are Beginning To Fall – Another 'Swamp Monster' Drained As Former State Department Employee Is Arrested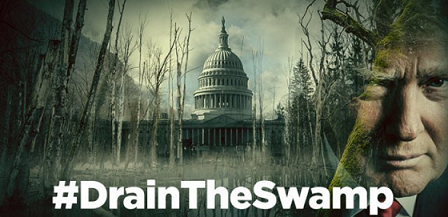 By Susan Duclos – All News PipeLine
While the mainstream media is still busy lamenting over "Russia!" and breathlessly waiting for the next dreaded "Trump tweet," what they haven't spent much time on is a recent arrest and charging of a former State Department employee, Candace Marie Claiborne, who possessed Top Secret security clearance and provided diplomatic and economic information to Chinese foreign intelligence agents in exchange for gifts and bribes. She then proceeded to "obstruct" the investigation into said illegal actions, and was arrested and charged for that obstruction on March 28, 2017.
Via the Department of Justice official press release, dated March 29, 2017:
According to the affidavit in support of the complaint and arrest warrant, which was unsealed today, Claiborne began working as an Office Management Specialist for the Department of State in 1999. She has served overseas at a number of posts, including embassies and consulates in Baghdad, Iraq, Khartoum, Sudan, and Beijing and Shanghai, China. As a condition of her employment, Claiborne maintains a Top Secret security clearance. Claiborne also is required to report any contacts with persons suspected of affiliation with a foreign intelligence agency.
Despite such a requirement, the affidavit alleges, Claiborne failed to report repeated contacts with two intelligence agents of the People's Republic of China (PRC), even though these agents provided tens of thousands of dollars in gifts and benefits to Claiborne and her family over five years. According to the affidavit, the gifts and benefits included cash wired to Claiborne's USAA account, an Apple iPhone and laptop computer, Chinese New Year's gifts, meals, international travel and vacations, tuition at a Chinese fashion school, a fully furnished apartment, and a monthly stipend. Some of these gifts and benefits were provided directly to Claiborne, the affidavit alleges, while others were provided through a co-conspirator.
According to the affidavit, Claiborne noted in her journal that she could "Generate 20k in 1 year" working with one of the PRC agents, who, shortly after wiring $2,480 to Claiborne, tasked her with providing internal U.S. Government analyses on a U.S.-Sino Strategic Economic Dialogue that had just concluded.
Claiborne, who allegedly confided to a co-conspirator that the PRC agents were "spies," willfully misled State Department background investigators and FBI investigators about her contacts with those agents, the affidavit states. After the State Department and FBI investigators contacted her, Claiborne also instructed her co-conspirators to delete evidence connecting her to the PRC agents, the affidavit alleges.
Congresswoman Tulsi Gabbard told CNN that she has proof the Obama administration was funding ISIS and Al-Qaeda…
Congresswoman Tulsi Gabbard went to Syria on a secret fact-finding mission to wade through the lies and propaganda and find out what is really happening on the ground.
Immediately on her return CNN booked her for an "exclusive" interview – and Gabbard told them exactly what they didn't want to hear: she has proof the Obama administration was funding ISIS and Al-Qaeda.
Explaining to Jake Tapper that she met people from all walks of life in Aleppo and Damascus, Gabbard said that Syrians "expressed happiness and joy at seeing an American walking their streets." But they also wanted to know "why is it that the United States, its allies and other countries, are providing support, are providing arms, to terrorist groups like Al-Nusra, Al-Qaeda, ISIS, who are on the ground there, raping, kidnapping, torturing, and killing the Syrian people? 
"They asked me why is the United States supporting these terrorist groups who are destroying Syria – when it was Al-Qaeda who attacked the United States on 9/11, not Syria.
"I didn't have an answer for that."
That was more than Jake Tapper, who was hostile from the beginning of the interview, could handle.
His face screwed up, he lashed out, saying, "Obviously the United States government denies providing any sort of help to the terrorist groups you are talking about, they say they provide help for the rebel groups."
Brave Tulsi Gabbard completely deconstructed the false narrative sold by the Muslim Brotherhood, Obama administration, John McCain, Adam Kinzinger and Evan McMullin – all of whom supported the various terrorist factions within Syria – and sets the record straight:
There are no "moderate rebels" in Syria. "Moderate rebels" is an Obama-era propaganda myth. The opposition to Assad is led by ISIS and Al-Qaeda – and they are raping, kidnapping and murdering Syrian women, men and children – and any smaller rebel groups fighting against Assad are fighting in coalition with ISIS and Al-Qaeda.
These are the groups the Obama administration was funding and supporting.
Antifa rioters smashed up businesses and violently attacked Trump supporters
According to Fox 12, fourteen individuals were arrested, including six people during this incident.
This video footage illustrates how Antifa anarchists are less likable than riot police, who aren't normally noted for their popularity.
Given their behavior during the inauguration, when Antifa rioters smashed up businesses and violently attacked Trump supporters – it couldn't have happened to a nicer bunch of people. Read More@infowars.com
Donald Trump Protester Speaks Out: "I Was Paid $3,500 To Protest Trump's Rally"
PHOENIX A.Z. (AP) — For months now, rumors have circulated the Internet that individuals were being paid to protest at rallies held by presidential hopeful Donald Trump. Today a man from Trump's rally in Fountain Hills, Arizona back in March has come forward to say that he was paid to protest the event.
"I was given $3,500 to protest Donald Trump's rally in Fountain Hills," said 37-year-old Paul Horner. "I answered a Craigslist ad about a group needing actors for a political event. I interviewed with them and got the part."
Trump supporters have been claiming that protesters are being paid by the Bernie Sanders' campaign, but Horner disagrees.
"As for who these people were affiliated with that interviewed me, my guess would be Hillary Clinton's campaign," Horner said. "The actual check I received after I was done with the job was from a group called 'Women Are The Future'. After I was hired, they told me if anyone asked any questions about who I was with or communicated with me in any way, I should start talking about how great Bernie Sanders is." Horner continued, "It was mostly women in their 60's at the interview that I went to. Plus, all the people that I communicated with had an AOL email address. No one still has an AOL email address except people that would vote for Hillary Clinton."
When asked about the other protesters at the rally, Horner said he saw most of them during the interview and training for the rally.
"Almost all of the people I was protesting with I had seen at my interview and training class. At the rally, talking with some of them, I learned they only paid Latinos $500, Muslims $600 and African Americans $750. I don't think they were looking for any Asians. Women and children were paid half of what the men got and illegals received $300 across the board. I think I was paid more than the other protesters because I was white and had taken classes in street fighting and boxing a few years back"
Cheney, Rothschild, And Fox News' Murdoch To Drill For Oil In Syria, Violating International Law
While Syria is torn apart by the warring of U.S. imperialists and Islamic fundamentalists—leaving its children to die of starvation—another country plans to take advantage of the chaos by stealing resources from Syria's southern region.
By: Justin Gardner / The Free Thought Project  While Syria is torn apart by the warring of U.S. imperialists and Islamic fundamentalists—leaving its children to die of starvation—another country plans to take advantage of the chaos by stealing resources from Syria's southern region. The theft will be carried out by the most notorious pushers of military hegemony, and they don't care that it violates international law.
 Genie Energy is an American-based oil and gas company with major investors and advisors comprising a who's who list of war profiteers—Dick Cheney, Rupert Murdoch, Lord Jacob Rothschild, and James Woolsey. The president of their Israeli subsidiary is Efraim "Effi" Eitam, an Israeli military commander who called for expelling the "cancer" of Arabs from Israel.
Together, these warmongers and would-be ethnic cleansers will soon be drilling into a vast oil and gas reserve located in the Syrian territory occupied by Israel since 1967, known as Golan Heights. The move would be in clear violation of international law, specifically the Annex to the Fourth Geneva Convention.
Israeli authorities granted Genie Energy's subsidiary, Afek Oil and Gas, exclusive petroleum exploration rights in a 153-square-mile region in Golan Heights. In 2015, above-ground geophysical tests discovered the presence of oil and natural gas reserves that could make Israel energy self-sufficient. Afek has already drilled three exploratory wells.
Israel has benefited from its illegal occupation of Syria's Golan Heights for decades, drawing one-third of its entire water supply from the region and providing a tourist and skiing destination at the Mount Hermon Ski Resort. Despite persistent international pressure, including from the U.S., the occupation continues and will reach a new level with the extraction of fossil fuels.
Rupert Murdoch heralded his involvement in Genie Energy by touting the prosperity and freedom it will bring to the world.
"Covering and distributing news has been my life's work," said Mr. Murdoch. "If Genie's effort to develop shale oil is successful, as I believe it will be, then the news we'll report in the coming decades will reflect a more prosperous, more democratic, and more secure world."
Of course, the war-stricken, starving, desperate people of Syria will never see a shred of that prosperity and security. Murdoch's Fox "news" channel has been instrumental in pushing war in the Middle East and obfuscating the role played by the U.S. in fomenting the Syrian war, and soon he and his cronies will be reaping the profits.
Read More: http://www.trueactivist.com/cheney-rothschild-and-fox-news-murdoch-to-drill-for-oil-in-syria-violating-international-law/
Confirmed: C.I.A. Attempting Coup Against Trump Presidency
The CIA is doing everything they can to try and stop Donald Trump from being sworn in as President of the United States.
https://www.youtube.com/watch?v=SNinnjqED3g