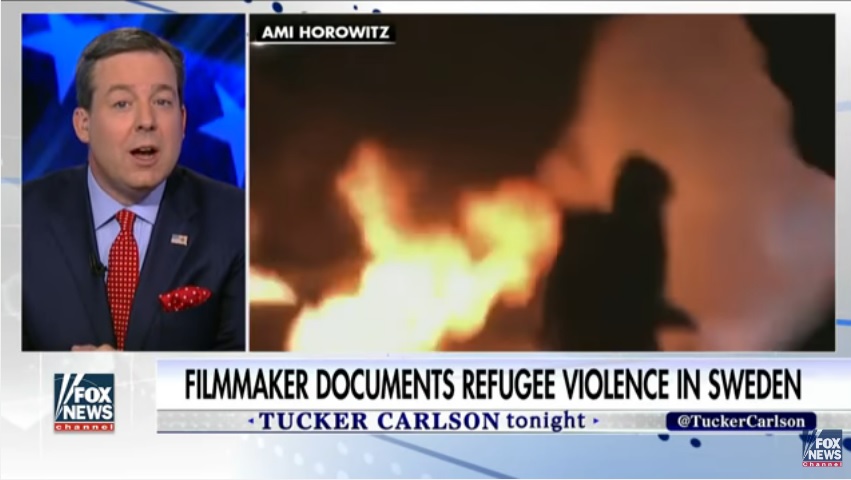 By Susan Duclos – All News PipeLine
Did President Trump misspeak at his rally speech in Melbourne, Florida on February 18, 2017, when he referenced the problems in Sweden in regards to their refugee crisis? No, he didn't, but the MSM is not only "misspeaking," they have been caught red-handed in deliberate lies and misrepresentations, yet again.
The mainstream media tells their readers that Trump referenced an "attack" in Sweden that never happened, so the first point here is that Trump didn't use the word "attack" in his reference, when he said "Here's the bottom line. We've got to keep our country safe. You look at what's happening. We've got to keep our country safe. You look at what's happening in Germany, you look at what's happening last night in Sweden. Sweden, who would believe this. Sweden. They took in large numbers. They're having problems like they never thought possible. You look at what's happening in Brussels. You look at what's happening all over the world. Take a look at Nice. Take a look at Paris. We've allowed thousands and thousands of people into our country and there was no way to vet those people. There was no documentation. There was no nothing. So we're going to keep our country safe."
That comes directly from the transcript provided by Palm Beach Post.
HOW A MSM FAKE NEWS STORY IS CREATED
How did the MSM "spin" (read: LIE) in their reporting? Look to USA Today for an example, when they headlined, "Trump cites (fake) attack in Sweden."
So, looking at the transcript, then reading the USA Today headline, which just happens to be "trending" on Facebook, we see that they actually put words into Trump's mouth that he didn't say, in order to create yet another false narrative, showing exactly why many of us, including president Trump, continues to hammer them relentlessly on their "fake news" reporting.
Once again, the White House had to spend time clearing up the MSM fake news report, stating the president was "referring to a report he had seen the previous night," White House spokesperson Sarah Sanders said, and "he was talking about rising crime and recent incidents in general, and not referring to a specific incident."
Trump himself tweeted the same thing saying "My statement as to what's happening in Sweden was in reference to a story that was broadcast on @FoxNews concerning immigrants & Sweden."
Sure enough, all the MSM would have had to do is use a search engine, it took me approximately 40 seconds to find the report, which just as Trump and the White House asserted, was published on February 17, 2017, showing why he referenced "last night" in his Florida rally speech on February 18, 2017. The description of the report: "Sweden has taken in hundreds of thousands of refugees and rape and violence has since skyrocketed. A journalist took a close look at Sweden's refugee crisis and at what 'extreme vetting' really means." Read more @allnewspipeline.com